Home
Graupner GR-24 Pro3xG +3A +3M + VARIO ,12 ch 33583 Envelop
Graupner GR-24 Pro3xG +3A +3M + VARIO ,12 ch 33583 Envelop
Graupner GR-24 Pro3xG +3A +3M + VARIO ,12 ch 33583 Envelop


LEVERTIJD 2-7 werkdagen
Artikelcode: 33583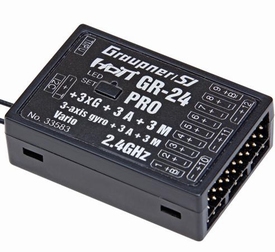 Productinformatie
TOEBEHOREN HOTT
Description
With the GRAUPNER HoTT 2.4 GHz technology, the receiver has a new Hopping Telemetry Transmission high-frequency unit with state-of-the-art components and software.
For reception, a hardware-aerial diversity system always switches to the better aerial signal and for transmission always uses the aerial that was last used for reception.
This ensures that the return channel data are sent via the better positioned aerial.
Without add-on sensors, the parameters receiver voltage and temperature, signal strength, and vario-functions are transmitted.

3-axis gyro + 3-axis acceleration sensors + Vario:
Stabilization of the model aircraft in difficult wind conditions for up to 3 axes
Natural flight behaviour thanks to proportional gyro offset adjustment
Very good stabilization for tight flight figures
Thanks to the 3-axis gyro, even aerobatic models that are difficult to master can be flown very comfortably; simplifying aerobatic flight extremely
Flight figures can be flown very tightly
Simple adjustment of gyro assignment
Adjustment of the parameters via the HoTT telemetry
Altitude sensor for vario-function and altitude
Flybarless system for helicopters (later via update)
I2C interface for future addition of functions


Functions with SMART-BOX:
mixers programmable
Linear, degressive, and exponential programming of servo curves
Telemetry connection instead of a servo possible on channel 5
SUM signal programmable at the output of the highest channel
Limitation and reversal of servo travels also possible in receiver
Failsafe, hold, and OFF programmable individually for the servo channels
Warning thresholds programmable for undervoltage, excess temperature, and low temperature
Servo test function
Specification
Temperature range : - 15...+70 °C
Aerial length: 2 x Draht 145 (Antenne 30) mm
All-up weight, approx.: 18 g
Frequency : 2400 ... 2483.5 MHz
Range approx. : 4000 m
Dimensions (LxWxH): 46 x 31 x 14 mm
Modulation: 2.4 GHz FHSS
Charging rate : 70 mA
Operating voltage : (2,5) 3,6 ... 8,4 V