Home
Robbe Digital Battery Checker II nr. 8588 Envelop
Robbe Digital Battery Checker II nr. 8588 Envelop
Robbe Digital Battery Checker II nr. 8588 Envelop
met balancerfunctie in cel meting capaciteit.
Dat moet in de gereedschapkist!!



Op voorraad
Artikelcode: 8588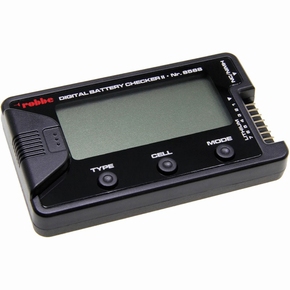 Robbe Accutester met balancerfunctie in cel meting capaciteit.
Voor LiPo/LiLo/LiFe/NiMh/NC
Bestelnr. 8588
Controleer uw accu per cel op: Geen externe voeding nodig!
-cel voltage
-totaal voltage
-laagste cel voltage
-Hoogste cel voltage
-Voltage verschillen.
-Via de CELL knop , Geeft spanning en rest capaciteit in % per cel.
kun je de slecte cell elimineren.
-Lage spanningspieper
-Balanceerfunctie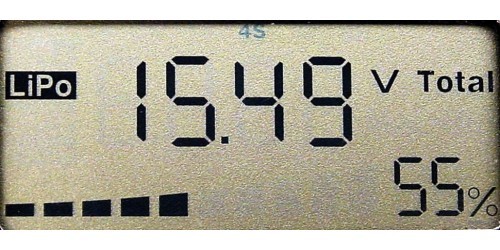 Product Details
An important aid for determining whether the battery still has sufficient capacity for another flight, or whether it needs to be recharged. The unit is connected via the voltage sensor lead (EHR connector system).
Functions:
• Integral balancer function
• V-TOTAL= Overall voltage
• V MAX-MIN= Difference between highest and lowest cell voltage
• V MAX: Cell with the highest voltage
• V MIN: Cell with the lowest voltage.
• Use the CELL button to display the individual cell voltage and capacity.
• The device can be switched between the different battery types LiPo, LiIo and LiFe.
A second socket (servo or BEC connector) is available for displaying the voltage of 4-7 cell NC / NiMH batteries. The capacity of NC / NiMH packs can also be estimated if a load resistor is wired in parallel with the battery.