Home
Graupner S1005 mz-18, 9 Kanal HoTT Fernsteuerung Engels Pakket
Graupner S1005 mz-18, 9 Kanal HoTT Fernsteuerung Engels Pakket
Graupner S1005 mz-18, 9 Kanal HoTT Fernsteuerung Engels Pakket
ALLEEN ZENDER +TOEBEHOREN


LEVERTIJD 2-7 werkdagen
Artikelcode: S1005.77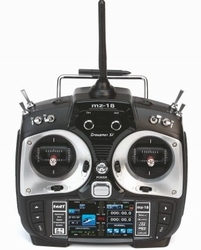 Productinformatie
TELEMETRY en ONTVANGERS
Das Set enthält:
mz-18 Sender, 2000mAh NiMH Senderakku, Senderladegerät, USB-Kabel, USB PC Interface Adapter, USB-Adapter Kabel, Senderriemen, Handbuch
Specification
Control function: 9
Temperature range : -10...+55 °C
Aerial length: 120 mm
All-up weight, approx.: 840 g
Frequency : 2400...2483,5 MHz
Range approx. : 4000 m
Dimensions (LxWxH): 194 x 287 x 112 mm
Modulation: FHSS
Charging rate : 510 mA
Operating voltage : 3,4...6,0 V
Warnhinweis: Warnhinweis_14+_EN
Description
Graupner/SJ mz-18 HoTT 2.4GHz 9 Channel transmitteris designed with Graupner/SJ's unique telemetry technology that support Bi-directional data transmission gives user the real-time information.
The use of up to 75 frequency hopping channels ensures extreme operating reliability and immunity to external interference.
mz-18 has 30 model memories and it is suitable for any aircraft, Aditionally, with up to 9 available channels,
built-in telemetry with data logging capabilities and 3.5" large TFT LCD with specialized touch pannel,
mz-18 is the obvious choice for anyone who needs a high quality 9 channel radio.

Features:
HoTT (HOPPING TELEMETRY TRANSMISSION) bi-directional 2.4 GHz technology
The use of up to 75 frequency hopping channels ensures extreme operating reliability and immunity to external interference.
3.5" clolor TFT LCD with specialized touch pannel and user friendly interface
Smart voice announcement system (Speaker and Earphone) for warnings and alarms at real time
Real-time data analysis with optional sensor (GPS, Fuel status, Temperature, Voltage, Current) and sensor board (General air module, General engine module)
Real-time telemetry analysis for Brushless Control Telemetry ESC such as RPM, consumption current, voltage, ESC temperature, Warning'
Advanced HoTT wired/wireless trainer system
Multi binding receiver system that 2 receivers can be connected in paralleled to use additional servos
High-precision quad ball bearing gimbals (total 8ea) lead the smooth and comfortable stick feeling
Standard micro SD Memory cards to sharemodel setup, expand model memeory
30 model memories
Model copy function for model memories
Staying up to date with the latest Graupner/SJ Firmware
Programming options:
30 model memories(Available to expand model memory, using SD card)
6 Q.link functions
3 Model types(Helicopter, Airplane, Glider)
Helicopter Function
Q.link function x 6
6 swash plate types (1 Servo, 2 Servo 180, 3 Servo 120, 3 Servo 140, 3 Servo(Elevator), 4 Servo 90)
Pitch Curves (7-point)
Throttle Curves(7-point)
Pitch, Throttle Trim function x 6
Swash Limit function
Swash Limit mix function
Program mixing x 8(Liner Program mixing x 5, Curve mixing x 3)
Throttle mixing function(AILE>>THRO, ELEV>>THRO, RUDD>>THRO)
Airplane Function
Q.link function x 6
8 wing type(Delta wing included)
3 tail type
Wing mixing(RUDD>>AILE, AILE>>RUDD, RUDD>>ELEV)
Program mixing x 8(Liner Program mixing x 5, Curve mixing x 3)
Snap roll function
Aileron Diff function
Flap sett function
Airbrake function
Idle Low function
Glider Function
Q.link function x 6
8 wing type(Delta wing included)
3 tail type
Wing mixing(RUDD>>AILE, AILE>>RUDD, RUDD>>ELEV)
Program mixing x 8(Liner Program mixing x 5, Curve mixing x 3)
Aileron Diff function
Flap MIX function(FLAP, AILE>>FLAP, ELEV>>FLAP, FLAP>>ELEV)
Flap sett function
Butterfly function