Robbe MAXI SERVO S 3306 MG 1-F1390 1:5 cars 25KG Pakket
Robbe MAXI SERVO S 3306 MG 1-F1390 1:5 cars 25KG Pakket
METAL GEAR MG
Dimensions: 66 x 30 x 57 mm
Mass/weight: 130.00 pond/g
Operating voltage: 4,8-6 Volts
Nominal voltage: 4.80 Volts Torque: 190.00 Ncm Transit speed: 0.15 Sec/45°
Nominal voltage: 6.00 Volts Torque: 250.00 Ncm Transit speed: 0.12 Sec/45°



Op voorraad
Artikelcode: F1390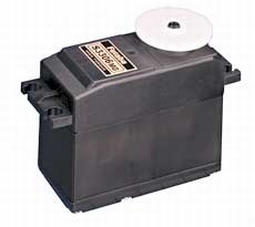 Productinformatie
Ander Bigscale servo's
LET OP: Bigscale servo's altijd alleen met signaaldraad geel/wit op de ontvanger aansluiten.
Aparte voeding geven via een goede BEC of rechtstreek op 2S Lipo, dit vanwege hoge stroomverbruik!!
Robbe Servo S 3306 MG bestelnr. 1-F1390
Ultra-powerful maxi-size servo, with twin ballraces and robust five-stage metal gearbox.
With its enormous output torque of 250 Ncm this servo is ideal for use in large-scale model aircraft as well as in 1 : 5 scale RC model cars.
Despite the high torque this is an extremely fast servo.
Specification:
Dimensions: 66 x 30 x 57 mm
Mass/weight: 130.00 pond/g
Operating voltage: 4,8-6 Volts
Nominal voltage: 4.80 Volts Torque: 190.00 Ncm Transit speed: 0.15 Sec/45°
Nominal voltage: 6.00 Volts Torque: 250.00 Ncm Transit speed: 0.12 Sec/45°
Old Servo S3306 NEW Servo S3306 MG