ZAP PT715 ZIP Kicker Flesje Activator secondenlijm 59ml Pakket
ZAP PT715 ZIP Kicker Flesje Activator secondenlijm 59ml Pakket
Met handig spuitpompje
NIET voor Depron en schuim.


Op voorraad
ZAP | Artikelcode: ZAP-PT715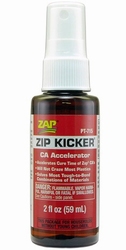 Accelerator for Zap- and other CA's. Non fuming formula.
Works best on:
Carbon Fiber
Ceramic
Fiberglass
Metal
Most Plasticsm Aluminum
Pottery
Rubber
PROPERTIES: Appearance: Thin, straw-colored liquid with alcohol odor.
USE INSTRUCTIONS: (NOTE – Not for use in cosmetic applications).
1. Use in a well-ventilated area with fresh air source.
2. Product can be applied to surfaces prior to application of adhesive to set adhesive surface.
STORAGE AND SHELF LIFE:
Store in cool area away from sunlight or heat.
Stored under these conditions, a one-year shelf life can be expected.
SAFETY AND HANDLING PRECAUTIONS:
DANGER: FLAMMABLE. VAPOR HARMFUL.
Contains Isopropyl alcohol. Use & store in well-ventilated area away from heat, sparks or open flames.
Harmful by inhalation, in contact with eyes or skin and if swallowed.
Danger of cumulative effects.
Avoid prolonged breathing of vapors and skin/eye contact.
Causes respiratory tract and eye irritation.
Direct contact may damage eye tissues.
Avoid prolonged breathing of vapor. KEEP OUT OF REACH OF CHILDREN.